Although ankle injuries are common, there more than one type. Some ankle sprains will involve a partial tear. However, the most severe type of ankle sprain involves a full tear of the ankle ligaments. The treatments a foot doctor in Springdale will use depends on the type and severity of the case. Some possible treatments include ankle bracing and casting. If it's severe enough, ankle surgery will be necessary.
If you're looking for a highly qualified doctor for foot doctor in Springdale, you're in the right place. When you choose our practice, you're choosing excellence. We have a top-notch doctors and surgeons on staff at Ozark Foot & Ankle, PLC. We have outstanding professionals who are highly skilled. Our exceptional doctor doctors have a wealth of knowledge and experience who are very highly regarded. Our expert doctors can not only provide you with the ankle treatment you need but is fully equipped to handle all your podiatric care needs. Our experts are fully equipped to handle all your foot care needs. In addition to ankle surgery, we offer a full array of high quality podiatric care services at Ozark Foot & Ankle, PLC. Our amazing experts treat all foot and ankle conditions including: diabetic foot care, bunions and hammertoes, ingrown and fungus nails, breaks and sprains, and corns & calluses. You'll be in excellent hands at our practice. Our office staff consists of cordial, knowledgeable professionals who are committed to providing the outstanding care our patients need and deserve. We recommend that you come in for a consultation, so you can learn more about how our doctor can help you.
If you have injured your ankle, don't wait. Call Ozark Foot & Ankle, PLC right now so we can get you in to see our expert foot doctor in Springdale.
By Ozark Foot & Ankle PLC
January 30, 2019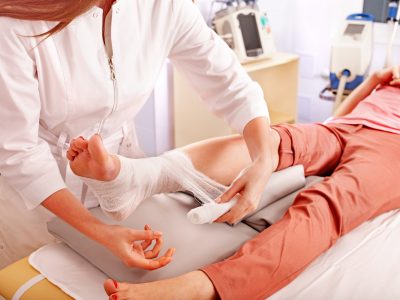 Blog Posts
Follow Us